We have a 99% success rate in visa application processing.
Over 3000 delighted customers have taken their Australian migration journey with us.
We invite you to start your visa journey with us.
Qualified with a degree or trade certificate or have skilled work experience? Interested in experiencing the Australian lifestyle?
Australia is seeking skilled migrants across a range of occupations.
We live and breathe visas. Let us use our knowledge and experience to find your pathway to an Aussie visa.
Want to bring your parents to Australia? Engaged, married or in a de facto relationship with an Australian?
Have relatives in Australia?
We help reunite couples and families in Australia as quickly as possible.
Have you been offered a job in Australia and need to arrange a sponsored work visa? Or do you hold a 457 visa and are unsure about your pathway to PR? or just plain confused?
With an ever-changing landscape, we know the system and are on top of the changes. We will assess your eligibility then guide you through every step of your journey towards your temporary or permanent sponsored work visa.
Explore the 7 Step Pathway below…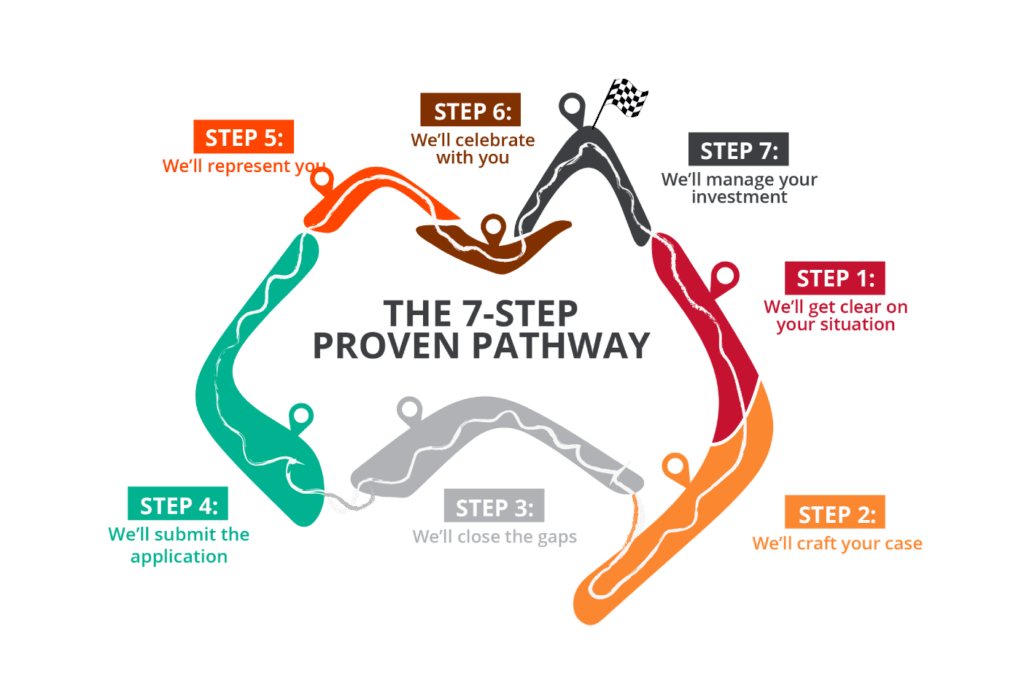 The first step on your journey is to explore your eligibility.
In our initial discovery session, we discuss your goals and dreams and obtain the necessary information and documents from you.
We then create your MAP: Migration Action Plan, giving you all the information you need for the journey ahead: our 3 key recommendations, costs, time frames, risk factors and action steps.
Book your Discovery Session with Aspire Australia Founder and Chief Dream Weaver, Sarah Gillis either at our Sydney HQ or via Skype.
Once we've mapped out your Australian visa journey and requirements, you'll receive a tailored Start-up Kit to help you gather the data and documents we need to prepare your application.
We'll use our experience, knowledge and legal analysis skills to anticipate any issues and construct a water-tight application.
We'll increase the likelihood of an immediate decision on your visa application, avoiding any 28-day requests for information, which would slow your application down, by ensuring you have all the required documentation in place.
Depending on your application type, we will prepare your:



Skills Assessment

We will research your eligibility, guide and assist you in the drafting of a resume, references and submissions. We'll help you address the job eligibility criteria, and provide certification services where required.




State Sponsorships

We will monitor sponsorship opportunities using a dedicated search tool and help you research your selected regional work areas. We'll also help prepare your application for State Sponsorship and liaise with the relevant State authority.




Visa Preparation

We'll help draft the application and assist you to obtain police clearance certificates, undertake appropriate medicals, and examine and assess your documents.
We'll help with the necessary certification and verification of employment, so your application is decision-ready. When we've got it all together, we'll quality check your application, and then send it to you for a final pre-lodgement check before we submit.
Our specialist lodgement staff will carefully collate your material to submit electronically to the Department of Immigration or other body, ensuring that all documents and data are provided, and your application is decision-ready: that means a quicker outcome for you!
We don't stop at lodgement!
We represent you throughout the whole process, liaising with the Department of Immigration and other bodies, saving you time and worry. We're there to advise and guide you along the way.
You'll have access to our team and resources, including our FAQs, case studies and private Facebook community, where you can read stories from others, ask questions, learn tips and share ideas.
We love making that phone call to tell you that your application has been approved!
Our follow-up email will explain the outcome to you, and will provide you with information to set you on your way. We will wrap up loose ends, answer your questions and provide any additional advice that you need before starting your new life in Australia.
The granting of your Australian visa will open up opportunities for you. We'll be there to continue that journey with you.
We will schedule reminders for important dates such as visa expiry and eligibility.
Whether you are moving from a temporary to a permanent work visa, from Permanent Residence to citizenship, to sponsoring a partner, parents or other relatives, Aspire Australia will guide you throughout.
We will be with you every step of the way.