7 STEPS TO SPONSOR WORKERS
Our services to employers extend well beyond arranging decision-ready submissions of visa applications for your employees of choice. We provide comprehensive, thorough support to keep you compliant throughout the entire approvals process and beyond.
7 Steps to Sponsorship Success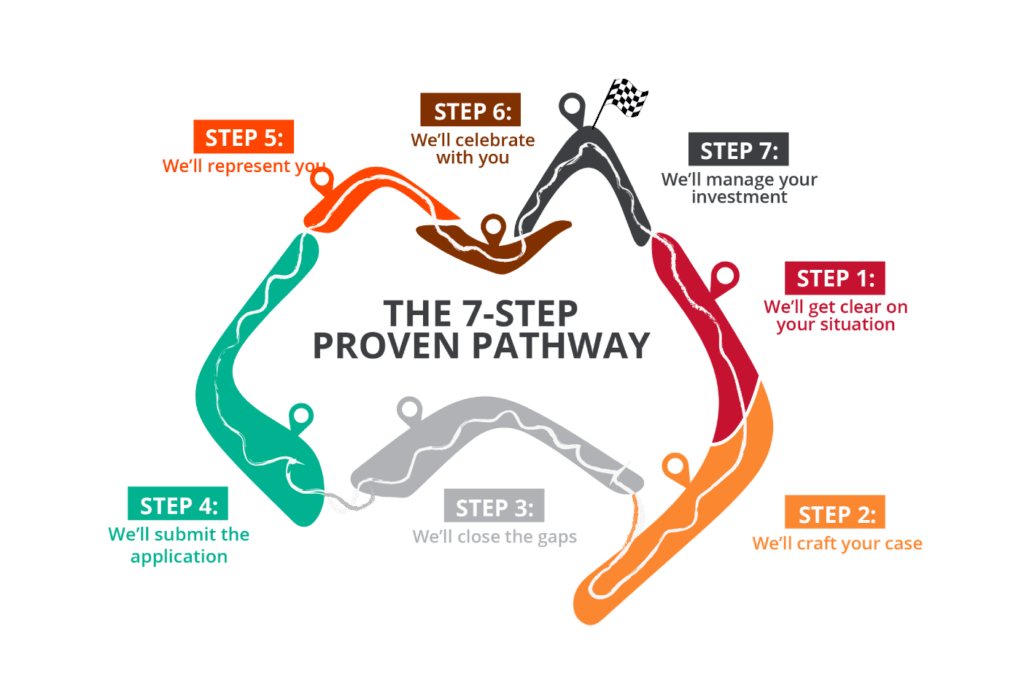 Tell us what you'd like to achieve and what your plans are, and we'll tell you if it's possible and how you can go about it.
Simply provide us with the proposed position description, location and salary - plus the candidate's resume - and we'll deliver a 3-point report covering:



Nominated Position

An analysis of the tasks, skills and qualifications required, against the skilled occupations lists, helping to identify suitable occupations.




Market Salary

Research from within your business and the marketplace to determine whether the proposed salary will meet market salary criteria.




Candidate Suitability

An analysis of the candidate's qualifications, work experience, skills, English language ability and Australian visa history, against legislative requirements and the position description.
By the end of Step 1, we will propose a MAP: Migration Action Plan, providing a solution, flagging any issues and setting a strategy for moving forward.
Once we understand your business and its requirements, we'll provide you with a tailored Start-up Kit to help you gather the data and documents we need to prepare a decision-ready application.
We'll use our experience, knowledge and legal analysis skills to anticipate any issues and construct a water-tight application.
By the time you receive your pre-lodgement package for checking, we will have covered off the following:



Position Description

We develop the job description in alignment with the skilled occupations lists, clarifying skills and qualifications required.




Market Salary

We conduct research of the job market, wages and skills shortages, then analyse and produce a Market Salary Report justifying the salary offered.




Organisation Chart

We prepare your organisational chart, and check the visas of all non-resident employees.




Training Benchmark

We analyse your training history, source courses and training modules, make an investment in an acceptable industry training fund, and prepare a Training Statement.




Employment Contracts

We guide you to customise your in-house contract to meet legislative requirements.




Equivalent Terms of Employement

We analyse your standard terms, conduct research, provide advice and prepare supporting statements.



Labour Market Testing

Where required, we draft an advertisement and schedule placement, provide you with a spreadsheet for analysis of candidates for interview, research market conditions and prepare a Labour Market Research Report.
By the end of Step 3, we provide you with your pre-lodgement package to thoroughly check and approve for submission to the Department of Immigration
Our specialist lodgement staff will carefully collate your material to submit electronically to the Department of Immigration or other body, ensuring that all documents and data are provided, and your application is decision-ready: that means a quicker outcome for you!
We don't stop at lodgement!
We represent you through the whole process, liaising with the Department of Immigration and other bodies, saving you time and worry. We're there to advise and guide you along the way.
You'll have access to our team and resources, including our FAQs, case studies and private corporate Facebook Sponsorship Boardroom community, where you can ask questions, learn tips and share ideas.
We love making that phone call to tell you that your application has been approved!
Our follow-up email will explain the outcome to you, and will provide you with information to set you on your way. We will wrap up loose ends, answer your questions and provide any additional advice and guidance, by meeting with you and your approved nominee.
Half of all approved business sponsors are monitored, and more than 10% are visited on-site by the Department of Immigration within the first year.
We'll ensure you have everything in place to be 100% compliant.
We'll explain your obligations, break down the complexities and provide you with easy-to-understand analysis, advice and assistance.
We will train your key staff to:
Meet your business sponsorship obligations
Record and retain the necessary information
Inform the Department of Immigration of notifiable events within required timeframes
Regularly self-audit your compliance activities
You will receive:
A check list of 'to do' and 'alert' items for your nominee's personnel file
Email bulletins updating you on any changes to sponsorship, nomination and visa criteria
Unlimited access to Aspire Australia's professional team
Reminders when new documents are needed for a nominee's personnel file
Reminders about training expenditure deadlines
Assistance and liaison support for handling monitoring requests from the Department of Immigration
Help to access the Department's Visa Entitlement Verification Online reports